Well finally on October 28th 2000 I flew to Orlando, Florida where I was welcomed by an IAC instructor from Lakeland, where the flightschool is located. I've been sent there by IAC (http://www.iac.nl) to complete a course for PPL (Private Pilot License), IR (Instrument Rating), CPL (Commercial Pilot License) CFI (Certified Flight Instructor), CFII (Certified Flight Instrument Instructor), work as a CFI/CFII for about 300 hours, do an internship as a Firs t Officer at AmeriFlight and then do the MEI (Multi Engine Instructor) program and work a couple of hundred hours as an MEI. So that when I get kicked into the jobmarket I'll have enough hours to apply at a major airline. At the moment I'm still in my PPL phase.

During the flight to Orlando I had a nice conversation with the cockpit crew of the Martinair MP631 flight. The captain told me he was the advisor of a website (http://www.pilotselect.com) (some sort of jobsite for pilots) and one of the webmasters is the guy that gave me the idea of IAC in the first place, Iskander Hannivoort. The captain was also part of the take-in comittee at Martinair so he was familiar with the IAC concept. He said that IAC had a good concept, but that at the moment the jobmarket in the Netherlands is saturated, but that I have a good chance with other European airlines.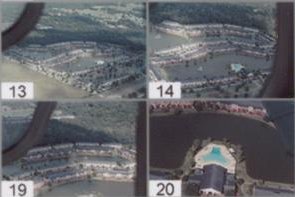 The Carlton Arms appartment complex
(courtesy of Joep Convents)

The appartment

The appartments here are very nice, except there's no vacuum cleaner here. Apart from that, they're very luxureous. Furnished, tv, kitchen with everything in and on it. As you can see on the picture, the complex has a nice swimmingpool. The one you see here is the one in front (there's also one at the back which is closer to my appartment). The one in the front is heated, so we tend to go there when the weather isn't as good as it's supposed to be in Florida. These pictures were taken by Joep Convents. I don't have any pictures myself yet, but I'll soon make some pictures myself and put them here.

The Academy

The school itself, Aviation Career Academy, (http://www.theacademy.net) is located approximately 7 miles from the Carlton Arms complex in Lakeland, (where the appartments are). I get picked up every morning at about 7:30 (actually 7:40-7:50 cause the bus is always late. I have to buy a car sometime soon, preferably a Honda CRX, because the distances here are just too far to walk and if you're finished early at school you have to wait for the 3 pm bus or you have to catch a ride with someone who does have a car. The facilities at the school are quite good. They have 13 Cessna C-152's, which my Scottish groundschool instructor calls "puddlejumpers" :-) Furthermore they have 2 Cessna 172's, 2 Piper Arrows and a Beechcraft Duchess (twin engine).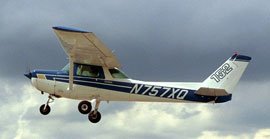 Haven't taken any pictures myself yet.


(courtesy of Iskander Hannivoort)


First I had to catch up with my class (I arrived 3 weeks later because of financial difficulties) with another guy from EAT (http://www.vliegopleiding.nl) We were three weeks behind on our PPL (Private Pilot License) groundschool, so we had to make that up and we did the material that they did in 5 weeks in 2 weeks. So now I've caught up in groundschool with my class. We're studying Instrument Rating and CPL (Commercial Pilot License) now.


Flying in Lakeland

The flying here is awesome! Except that in wintertime the mornings can be very foggy and/or cloudy. (i.e. IFR weather). IFR stands for Instrument Flight Rules which basically means that the visibility is not good enough to fly VFR (Visual Flight Rules), in which you navigate by ground reference. During the first lessons I got a little nauseous, because of the bumpy flightconditions (due to updrafts and wind), but after about 8 hours of flying experience I got used to it and now I'm fine. Luckily I'm not as bad as 2 of those EAT guys who shall remain nameless ;-), who threw up during their first lesson. During those lessons I learn how to do basic flying maneuvers, such as :

- Power on stalls (full power and then place the wings in such position where no more lift is created )
- Power off stalls (stall in landing configuration i.e. gear down (if it isn't fixed) and full flaps)
- Steepturns (angle of bank equal to or greater than 45 º)
- Slow flight maneuvers (making turns in landing configuration)
- Ground reference maneuvers (turns around a point, S-turns and rectangular courses)
- Traffic pattern flying (rectangular course around the runway)
- and of course takeoff and landing


Solo !

After 13,4 hours of flying time, approximately 2 weeks after my first flying lesson I had my first solo flight. It was originally planned on Tuesday November the 14th, but after a few fair landings in the pattern on Monday November the 13th my instructor asked me if I was ready to do it by myself. Well that was a retorical question! "Did you bring your medical certificate?", my instructor asked me. I felt like Macauly Culkin in Home Alone... AAAAAHHHH!!! I left my medical certificate in my flightbag at my instructor's desk and without the medical certificate you can't go solo. So I had to wait till the next day. Unfortunately on Tuesday the 14th the weather was IFR, so I couldn't go solo. Finally on Wednesday November the 15th 2000 I had my first solo with a Cessna 152 (N 25301) first had to do half an hour with my instructor in the traffic pattern and he found I was confident enough to go solo for the first time. I let my instructor get out of the plane at the ACA ramp and away I went. At the hold short point of runway 5 at Lakeland Linder Regional Airport I notified the tower that I was ready for departure, but he let a plane that came later go in front of me because I was a first time solo student pilot. Glad they have such confidence in me! :) I did one touch and go and one full stop landing. The first landing was not too good, not too bad either, but I thought it was too hard. The second landing actually was quite ok.


Night flying

Friday the 17th I went on my first night flight. (Night being from one hour after sunset to one hour before sunrise. That's actually pretty weird when you're doing the walk around. There's something special about it. It's all very primitive.. doing your walk around with a flashlight, but it's good fun. Then when you taxi to the runway you can hardly see anything. Sometimes you think the concrete cracks at the side is the centerline of the taxi way when you're turning. Then when you take off and climb to about 1000 ft or higher the sight is magnificent! It's almost magical. All those lights and all the malls are very brightly lit. Just brilliant. I can't wait to do my night cross country.


Cross country

On Monday November the 20th I had my first cross country flight. We (my instructor and me) went from Lakeland Linder Regional Airport (LAL) to Leesburg (LEE) and Ocala (OCF) and back to Lakeland. A trip with a total distance of approximately 155 miles. You navigate by comparing your flyingmap with the things you see on the ground. Especially highways, interstates and towers are useful, as are big lakes. So now I've kinda updated you with the last few weeks and I can now start informing you day by day.


Tuesday November 21st 2000

Today was kinda crappy. The morning was almost freezing! My instructor told me he had ice on his car because of the dew that froze to his car. This past week I've been wearing a coat to school every day. I was supposed to do some night cross country, but during pre-flight at around 17:30 (22:30 Zulu) I noticed that the left NAV light was inoperative. All the other planes were taken. There were some planes that were supposed to go into maintenance on the ramp, but we didn't have a Philipshead screwdriver, so we couldn't switch bulbs. So the flight was cancelled. And to think I could've been home at 13:00 !!!! I waited 4 and a half hours for nothing! Oh well... a day in the life of a student pilot.


Wednesday November 22nd 2000

I had my first solo cross country today! This morning we had a Stage I Exam for the Instrument Groundschool and I got a 90%, so that's quite reasonable. When I arrived at school today I thought I'd have to do the night cross country tonight again, but instead I got to do my first solo cross country. It was my third solo lesson and I didn't have any time out of the traffic pattern yet (you're supposed to do a solo lesson in the practice area before you go cross country) so I did 2 lessons in one. I went to Leesburg (LEE) and on the way over there I talked for about 20 minutes with 2 of my classmates, who were on their way to Crystal River (CCC) and Brooksville, Hernando County (BKV), on the radio on 123.45 MHz (some sort of chit-chat channel for pilots), while watching my heading, my map and of course I kept an eye on the traffic. I made my approach to runway 31 and I was right on the glideslope (2 whites, 2 reds), but I had a bit of a rough landing. Still hard to estimate the distance to the runway. The flight back went okay and I did the practice, but the plane I flew today (N 757XQ) had a bit of a control-disorder. It banked to the left when you let go of the controls. That's not nice flying, because when you look at your map for a while the airplane very slowly turns into a left bank. During slow flight it was even worse so I did a few stalls and I found it too dangerous to continue so I just went along and did my steepturns and stuff. The landing back at Lakeland wasn't a very good one. I flared too much too early. But hey.. "A good landing is one which you can walk away from, a perfect landing is one from which you can reuse the plane!" :-) Tomorrow is Thanksgiving and we have the Friday off as well, so we're going to Miami Beach with a group of five. No flying for 4 days.. how will we survive?! :-)


Friday November 24th 2000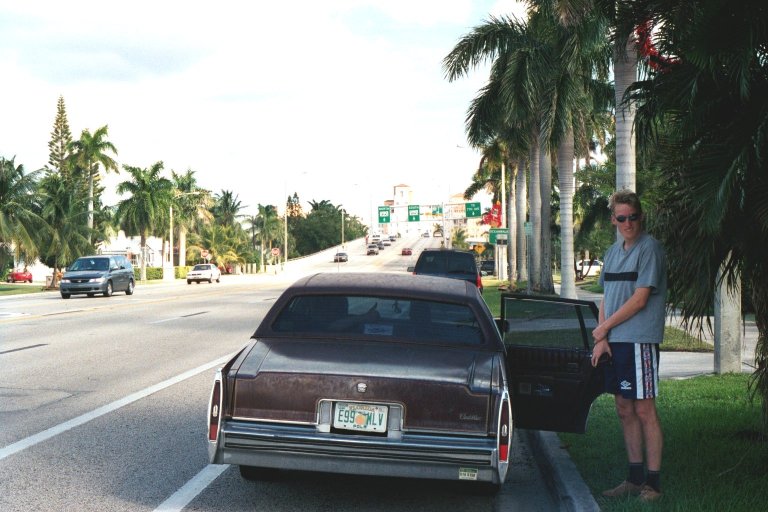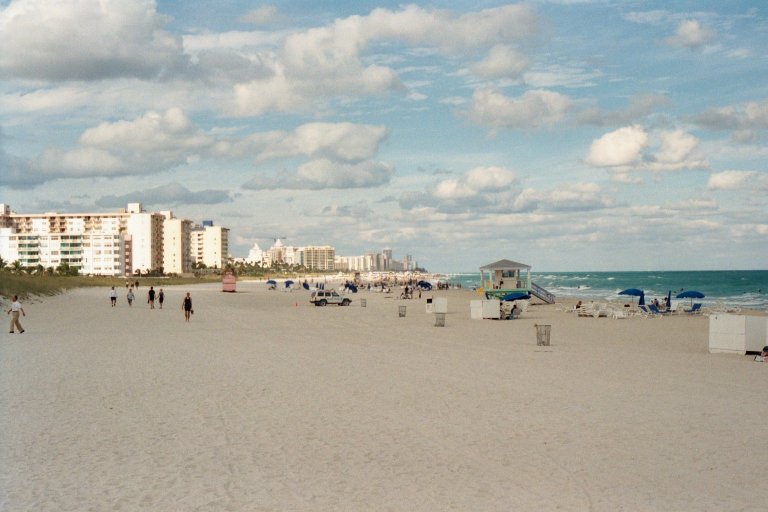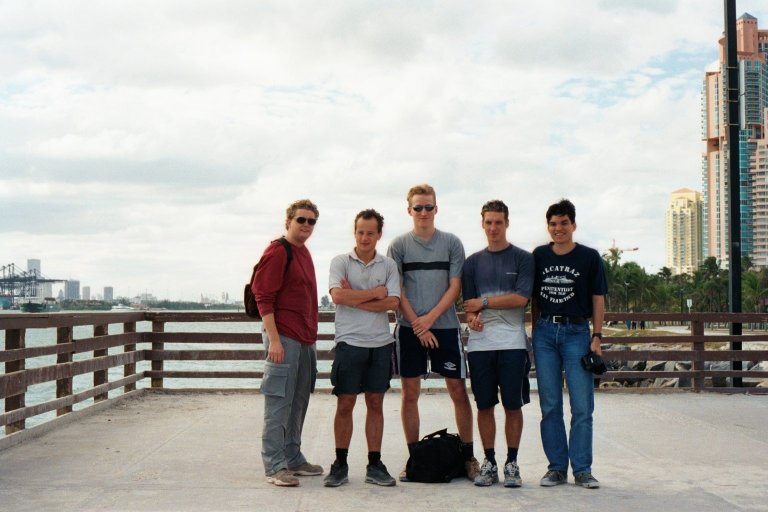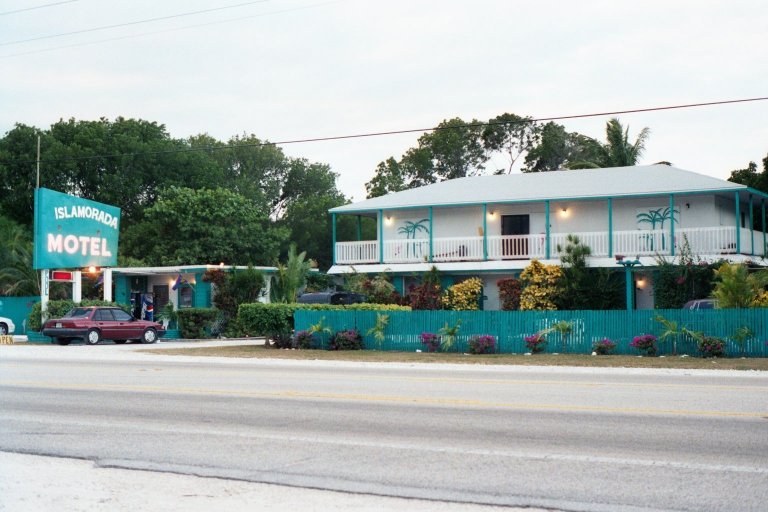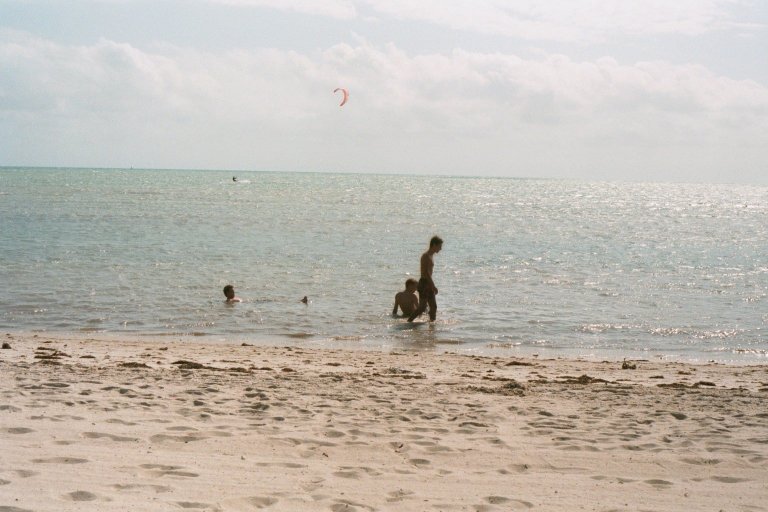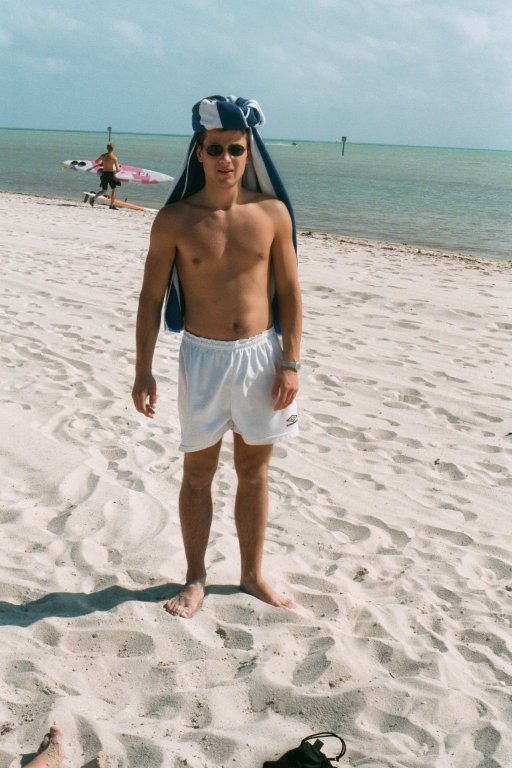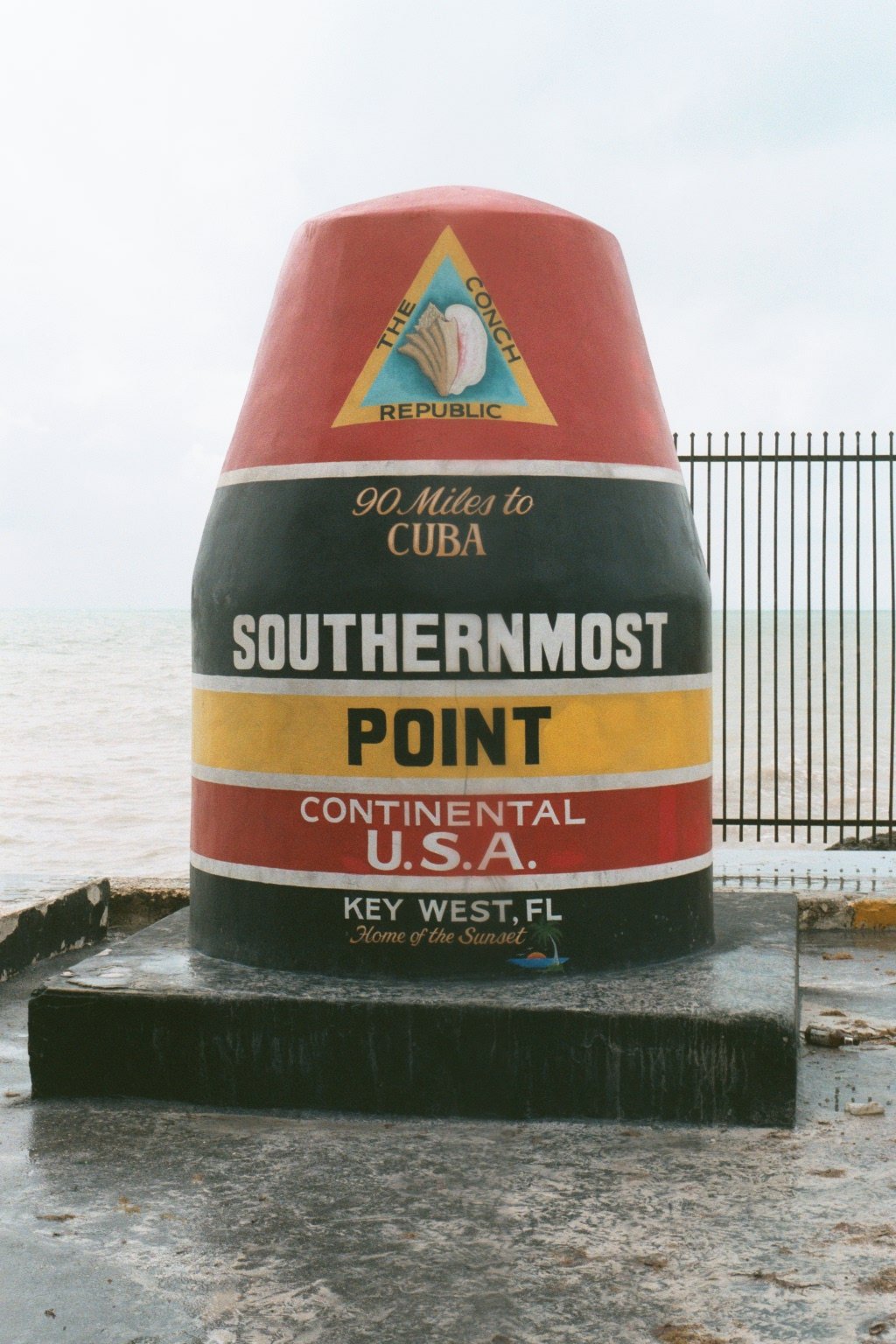 For Thanksgiving my roommate, Jurriaan, and I joined 3 of our classmates, Carlo, Dennis and Martin, on a trip to Miami Beach in their battleship/pimp-mobile :-), or so we thought. When we arrived in Miami the weather wasn't that good and we'd seen the beach so we figured we might as well go to Key West, since we're out here. We stopped at a motel in Isla Morada, where we spent the night in the local Tikibar, which was good fun, except we had to leave too early because of stupid rules that when you're under 21 and you can't identify yourself you have to leave the bar at a certain time. In that way America is a bit weird. You can buy a gun when you're 18, but you have to be 21 to drink beer or other alcoholic drinks. We went on to Key West after a good night's sleep and we arrived there about an hour and a half later. We spent a few hours lying on the beach and we drove through the old town. Lots of tourists. Sadly we had to go back early because of an IAC lunch tomorrow. When we got home after a 7 to 8 hour drive we (actually Carlo) had driven 750 miles.



Saturday November 25th 2000

Today we had the IAC lunch I mentioned before, but nothing spectacular happened. I was planning on buying a new headset, but the store where they sell them was closed, so we did some normal shopping and my roommate Jurriaan was looking around for a second hand car. Next to one cardealer there was a gunshop and we thought it would be fun to go in and have a look. This was just bloody stupid!! You could buy a semi- or fully-automatic weapon just by showing the money and identify yourself as 18 years or older. The smaller handguns are harder to buy. You have to be 21 in order to buy them and you have to wait 3 days. And for drinking some alcohol you have to be 21! Not that I ever drink any alcohol, but it's just a stupid law!! That night Carlo, Martin, Chris and I went to Ybor a part of Tampa where you can go out. Sadly Dennis couldn't come with us, since he's only 17 (you have to be 18 to enter one of those bars/disco's. We had a good time there, but the music wasn't as good as the Dutch music. We got back in Carlton Arms at about 3am.


Monday November 27th 2000



I had to do a solo flight in the practice area. Practicing stalls, slow flight, ground reference maneuvers and stuff. Suddenly when I tried a power on stall I had a wing drop. I was in a nose-high attitude and after the buffet the right wing dropped and put me in a nose-down, right bank attitude. There I was.. full power nose almost 70 degrees down screaming down to earth with an airspeed of 140 knots. (149 is Never Exceed speed). I just yanked the throttle, leveled the wings and very gently pitched up and then I was fine again. It scared the living shit out of me!! It was my first solo power on stall. I'd almost lost 1200 ft in less than 20 seconds! Immediately afterwards I climbed back to 3000 ft again and did the same thing again, just to prove myself I could do it and that one went fine, although I was still a bit scared. When I told my instructor he told me I'd done the right thing by idling the throttle and level the wings and pulling up gently.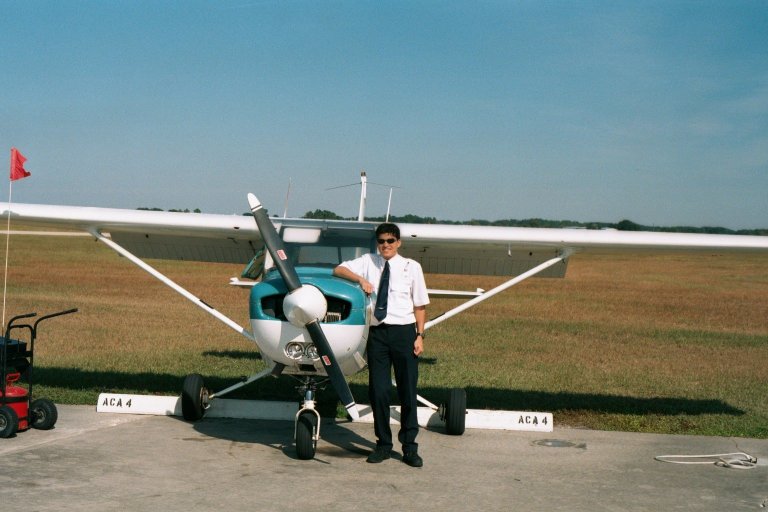 Me in front of the Cessna 152 N25301 just before the scary flight
Tuesday November 28th 2000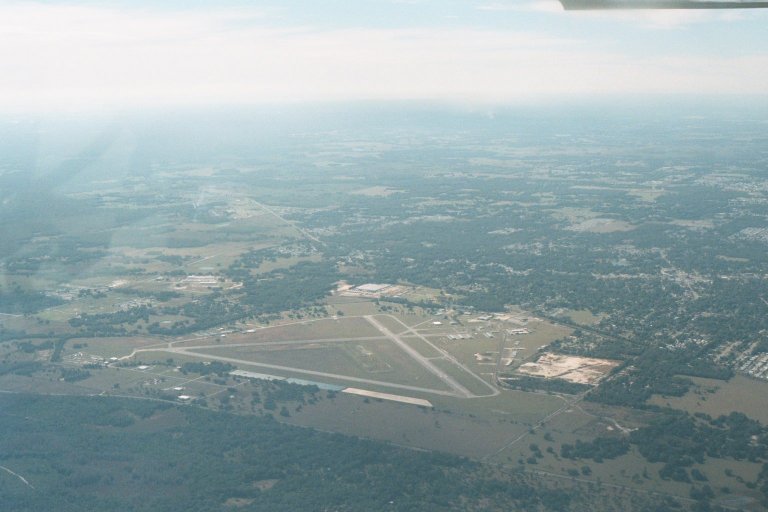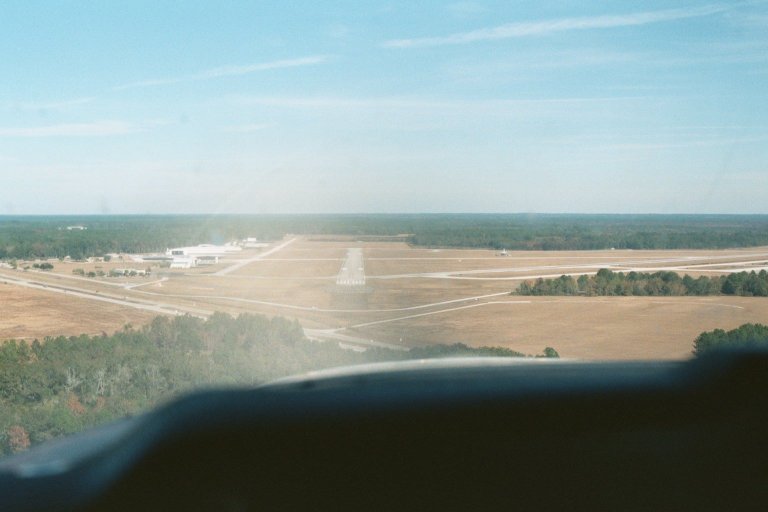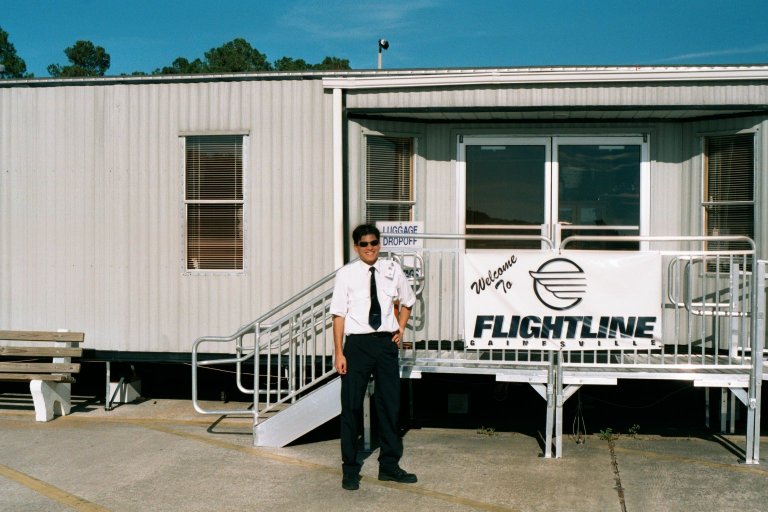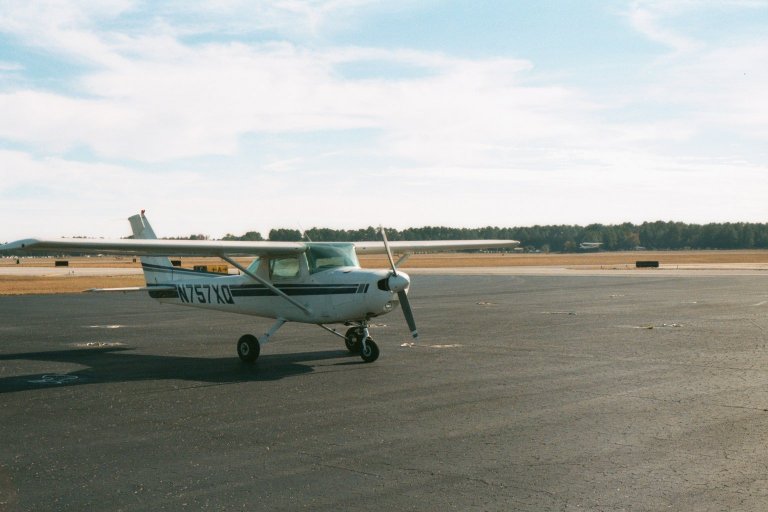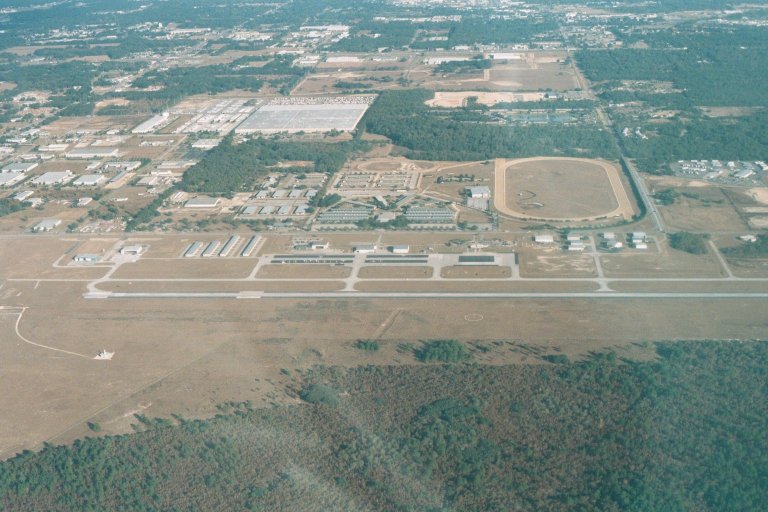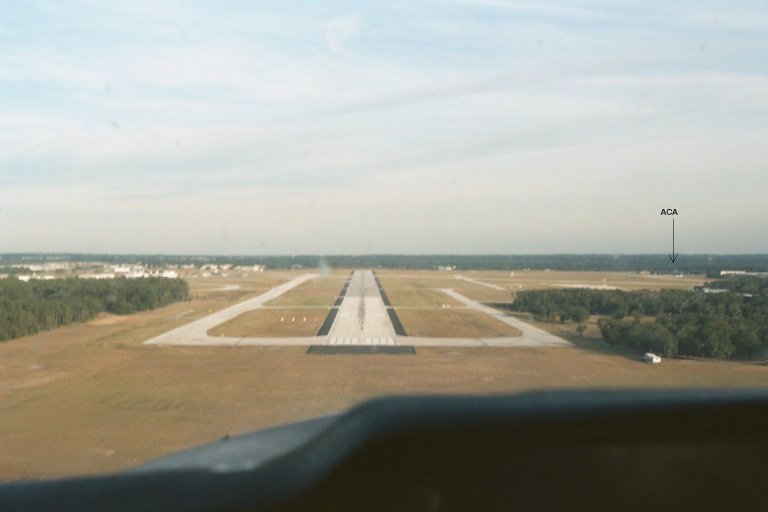 Today I could go solo again on cross country. I had the chance to fly with my roommate Jurriaan and my classmate Carlo to Ocala (OCF) and Gainesville (GNV). It was a pretty easy route and we got there without any problems. During the uncontrolled part of the flight, which is about 80%, we were talking on "the funny channel" (123.45 Mhz) which is an unused channel where pilots can chit chat. This time I didn't forget to take my camera with me so you can see the pictures here when I have them developped. I made pictures on the final of Ocala (I think) and on final of Gainesville as well. At Gainesville Jurriaan taxied to the Flightline FBO (Fixed Base Office) and they rolled out the red carpet for him. I didn't see it happening, because I arrived 5 minutes later than he did, but he told me and I could see the carpet. It was quite funny, it's a small airfield and obviously they're pleased to have customers :-). At Gainesville we met 2 classmates of us who also went there on their cross country. So there we were with 5 ACA planes and students. I took a picture of Jurriaan in front of the FBO and he took a picture of me.



That night I went on a dual (with instructor) cross country flight to Leesburg (LEE). Again it is amazing. The view at night is magnificent. And because of the shining of the light of cities you can see way, way further than during daytime. We were flying at 3500 ft and we could see the coast on the Gulf of Mexico on the left and almost as far as the coast of the Atlantic Ocean on the right which was about 40-50 miles on each side and all that because of the light. I made a stop and go in Leesburg and then went back to Lakeland to do 7 more landings. (I have to make 10 full stop night landings on a controlled field for my PPL). At the end of the day I'd done 5,4 hours. 2,9 hours to Gainesville and 2,5 hours to Leesburg and in the pattern at Lakeland. I also did a landing light and instrument lights off landing, so that I'd know how to land the plane just by looking at the horizon in the window and hearing the engine. She told me she'd had a nightflight and her landing light failed and there was some kind of bug blocking the pitot-tube so she didn't have the airspeed indicator to rely on. Although I had a few rough landings, it was a good practice.


Wednesday November 29th 2000

Today I flew with my regular instructor again. I hadn't flown with him for about a week and he told me I'd really made progress. We did some instrument time under the foggles (goggles made blurry at the top so that you can only see the instrument panel). It actually went quite well. I did my turns right and I managed to keep it within 25 ft of the desired altitude. Must have been because of the smooth weather. Although it was raining a bit, it was very smooth air with a ceiling of 20.000 ft. I did some landings at Plant City airport (approximately 5 miles west of Lakeland), but because of the crosswind they weren't as smooth as I'd hoped, but I still did okay. After the flight I went to Gulfcoast Avionics on the other side of the airport with Stefan, an EAT guy. We both bought a headset and since we bought it together we got a little discount and we didn't have to pay tax if we showed our passports. The headset I bought is a David Clark H20-10S.


Thursday November 30th 2000

I had my second Stage Check today, which I passed. We did a cross country to the south via Avon Park to Sebring, but we never arrived in Sebring. Actually we never got there, because after a few touch and go's in Avon Park we diverted to a little village called Bowling Green. That was to test my diverting skills in case an airport I planned to go to was closed and I'd have to make another flightplan to another airport with the sectional chart. It went quite well and we also did some VOR flying, which went okay as well, but the flight was quite bumpy, which made it really annoying, because you're not able to keep your heading or your altitude very well. I also had to show some crosswind landing, but I'm still not very good at that... have to practice that a little more. Furthermore I had to show a power on stall again, and again I didn't particularly like it, but I'm getting the hang of it now.
My instructor showed me unusual attitude recoveries for the first time and we were nose down again with 140 knots on the airspeed indicator, so the thing that happened monday wasn't that dangerous after all I reckon.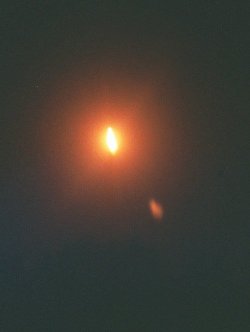 Tonight we were watching a shuttle launch at 10 pm, which was a very cool sight. It was very clear and thus very cold. We could see it in the distance, it was a very bright ball of fire going in a diagonal line upwards and sidewards. I tried to make a few pictures, but because of the long shutter time I don't know if the photo was moved or not. Guess I'll find out when I bring them away to be developed.



- -


Back to Current month