Last updated:
Sunday, October 21st, 2001, 01:05 Zulu


Notices To AirMen:


* At the moment not all the pics are online, but it's a start.
* Still working on a Flash intro.


* Updated my Journal of my American adventures.
(last update October 13th 2001)
* Added the new pics to the USPics section.
* Updated the About me section.
* Finally restyled the Spotters section.
* Updated the Links section.
Hi, Welcome to my homepage.
As you can see it is about Aviation.

If you're wondering what the hell 'V1-Rotate' means and why I've chosen it as my domain
name, click here.

You can navigate your way around by clicking on one of the buttons in the menu on the left.

In the Pictures section you'll find pictures taken by me while I was spotting at
Amsterdam Airport Schiphol, plus a Specials section with 2 rare 'mishaps' at Schiphol.
Even a report about an aborted take off made by an F100 from Air UK.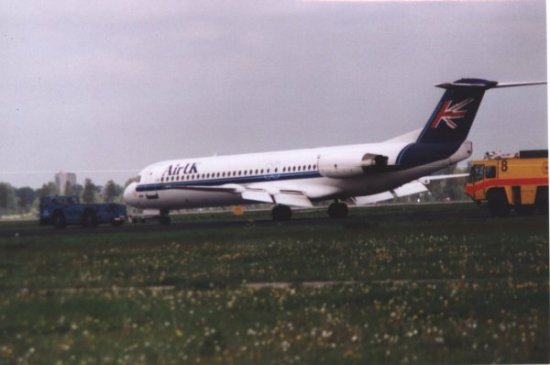 In the Video's section you'll find a Video of my ICQ friend Dave Wester landing his KLM
Cityhopper Fokker 50 on runway 19R 'Zwanenburgbaan' at Schiphol.

In the Sounds section you'll find sounds recorded by me. That particular flight was
flown by my ICQ friend, Dave Wester.
Plus an exclusive section of sounds and information about the last moments of flight
ELY 1862, the El-Al plane that crashed into a flat building in Amsterdam in 1992.

In the Spotters section you'll find information about which spot you should go to when
you go spotting at Schiphol. You'll also find the most used frequencies for scanning here.

In the links section you'll find a few of my favourite links to other websites, both aviation
related as well as a few non-aviation related links.

In the About Me section you'll find some information about me, webmaster of this site.

In the section of My Journal you can read about my experiences in Lakeland, where I'm a
student pilot at ACA, through IAC.

I hope you'll enjoy your stay. Please feel free to leave me a note via e-mail or write
something in my guestbook. Feedback is always welcome!






This site was created by Olf Poldermans ©2000 credits
Best viewed with Netscape Navigator v4.xx or above with 800x600